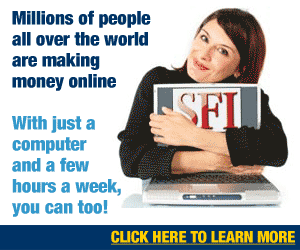 Above is a must read before getting involved in any business.
 Are you dazed and confused with all the home business ads?
 My goal is to cut down on the confusion by providing you with the information you need to make educated decisions about your future. Unfortunately there are 50 scams out there for every legit job opportunity.
Lets try that again ...
Home Business is not really a job opportunity. There are no set hours, no per hour or salary pay. If you do not " work" and make sells, then you do not make money.
A home business is work pure and simple. It requires many hours and effort and most times some money to get it running and keep it running.
If you are thinking. Great! I join this company and the money starts rolling in, you are wrong!
It takes several years to build up a customer base and then you have to hang onto that customer base.
Working from home can allow you to stay home with children, support your family, or just provide extra income... You do not have to be a salesperson,  
First research the companies that you are interested in. Completely check them out.
How long have they been in business? A new business is just as good as a well established business if the business owner has a great reputation.
How many reps do they have? Are you going to be tripping all over each other because there are 20 other reps within 100 miles of you. The companies with reps all over each other have an answer to this-
" It does not matter "how many reps are on top of you, you will still get sells etc.....
This is simply not true.
Lets say out of those 20 reps that 10 of them have been in business for 5 plus years,
They have customers that have been with them for years. Why is there customer going to all the sudden buy from you rather than their rep?
They are not!
Do they have references? Any business will have reps and or customers that are willing to vouch for them- if they do not, run the other way. If they promise a set income, run the other way. Your income will depend on how much you put into your business.
What kind ( if any ) restrictions do they have on how you are able to operate your business? A lot of the Big Companies have a long list of what is allowed and not allowed. Do you want restrictions on how you run your business, how you advertise, how you promote, and where you can sell? Read the fine print completely and ask for a contract or some kind of written agreement.
After you pick your company, in most situations you will need a EIN or Tax number- some companies will allow your SSN to be used. You also need to check on city, county, and state ordinances. Know about what and how before you get fined for trying to run your business.
Some states have a master license that will cover everything. Also check into your states revenue dept. You will be required to collect and pay sales tax if your company does not do it for you.
Now that you are all nice and legal, you have picked your business and are ready to go. Go for it!